Dog training in Edmonton
Carol & Greg Guy
Behaviour Therapists and Master Trainers
Servicing Areas:
Edmonton
St. Albert
Sherwood Park
Spruce Grove
Leduc
Devon
Beaumont
Fort Saskatchewan
Stony Plain.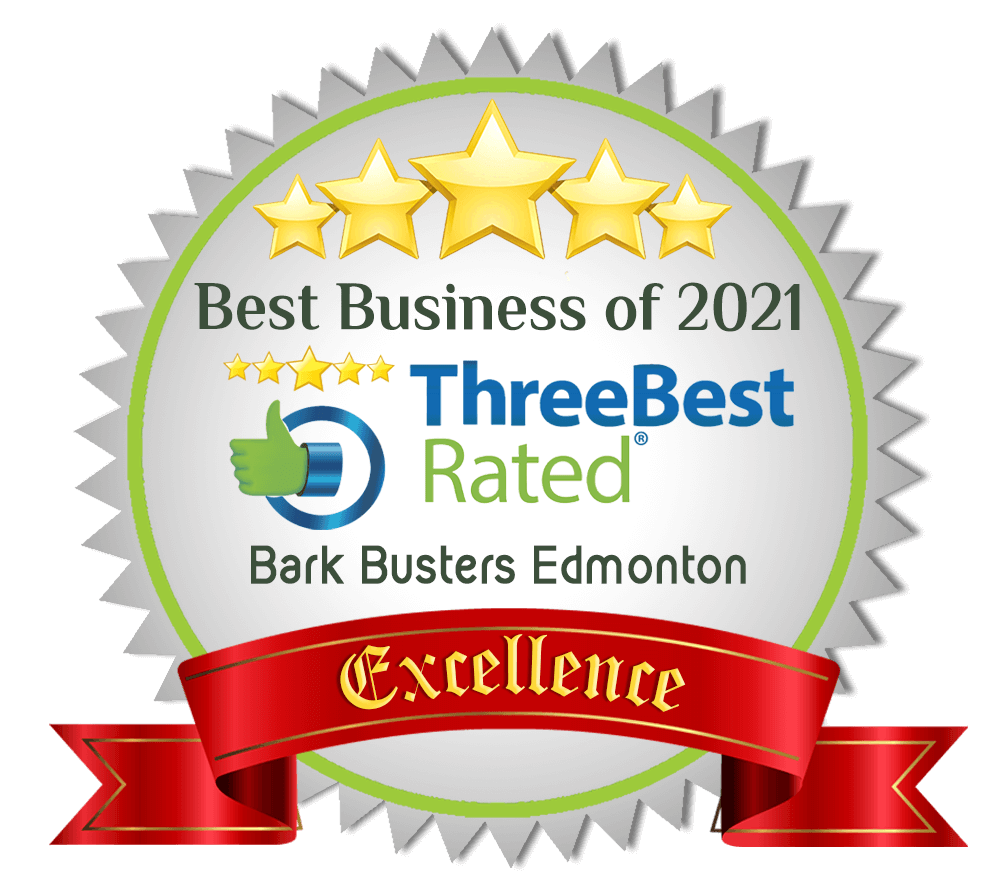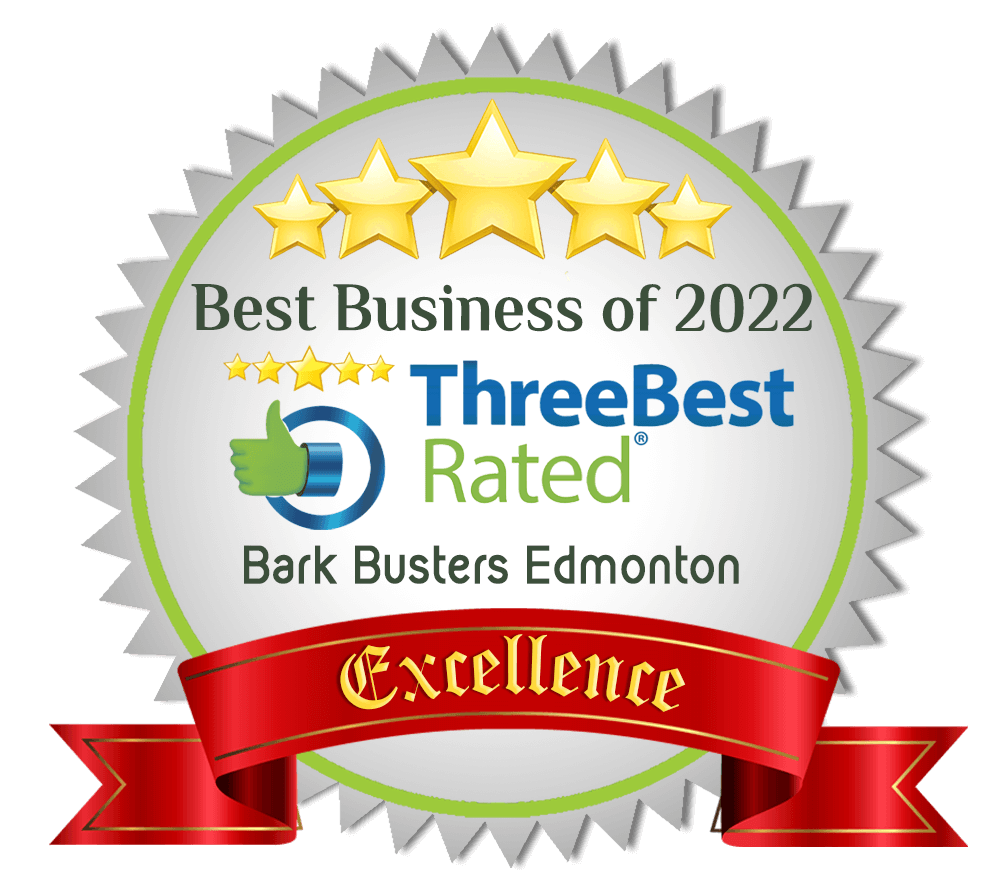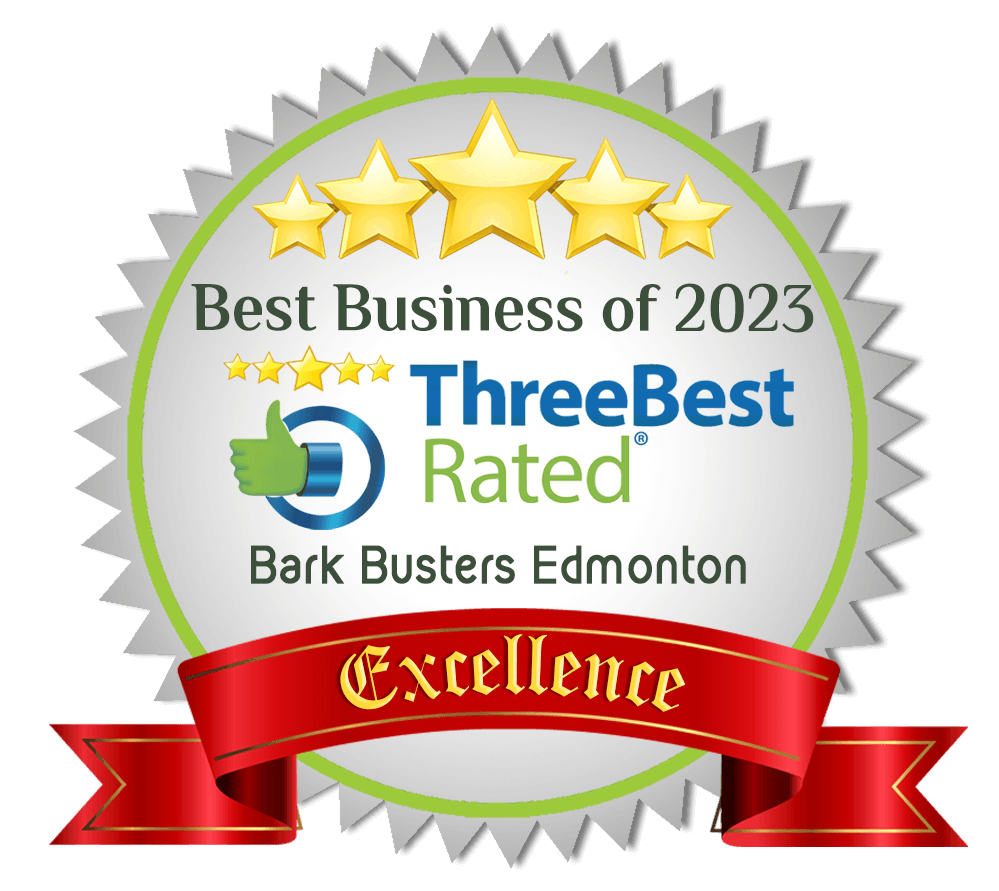 We are Carol & Greg Guy your local dog behaviour therapists for Bark Busters Home Dog Training Edmonton.
Not only are we the most established Canadian Bark Busters location, we are also the northern-most Bark Busters in the world! We've spent our entire lives in the Edmonton area and have always had a natural affinity for animals. We have a passion for dogs and have been blessed with some wonderful ones. We have also, at times, experienced the frustration of an undesirable behaviour or two in our own holy terriers!
We first learned of Bark Busters while watching a news program profiling the company and relating some of its success stories with dog behaviour problems. We were extremely impressed with Bark Busters' dedication to reducing the possibility of maltreatment, abandonment or euthanasia of companion dogs, and were amazed when the methods could readily turn these once unruly pups into happy, relaxed family members. We knew at that moment that Bark Busters was an organization we wanted to be a part of, and in 2004 we brought Bark Busters to the Edmonton area.
Over the years, we have become a multiple award winning office, with such honors as:
Most Satisfied Clients, Most Client Referrals, & Most Dogs Saved Awards.
Bark Busters International Leader of the Pack Award 2011 - 2012.
Carol Guy is one of Canada's Top Dog Trainers and also has the distinction of being Canada's premier Grand Master Trainer for Bark Busters, having singularly trained the most dogs and their families in Canada. More importantly, we love helping people understand their dogs and dogs to understand their people. You and your dog will love the training. It's simple, it's fun and it's effective. It's amazing to see the results that can be achieved when we are all talking the same language! Bark Busters has the knowledge and skills to diagnose any dog, any age and any issue – even complicated canine behaviours.
Bark Busters is veterinarian recommended, and our unique natural training techniques have proven so successful that we are able to offer our Life of Dog Guarantee, the only service of its kind that is guaranteed for the life of the dog. We'll be your partner in educating your dog for any problems he is having now or that may emerge later.So whether your dog is young or old, big or small, and no matter what breed, get started on your path to a positively happier home environment and life with your dog.
"He is your friend, your partner, your defender, your dog. You are his life, his love, his leader. He will be yours, faithful and true, to the last beat of his heart. You owe it to him to be worthy of such devotion."
Call Toll Free 1-866-418-4584 or Edmonton Direct 780-457-2559, or email us today, and see why Bark Busters is the largest, most trusted, & most referred dog training company in the world and Edmonton's Best!
---
Leash training
Barking
Puppy Training
Separation anxiety
Aggression
Jumping
General obedience training
And more...
Moose - Great Pyrenees
Bark Busters helped with: Pulling, Other
"Carol was a great trainer - I wish I had tried out Bark Busters sooner! The training is exactly what our dog needed. We had been through many positive-reinforcement style group classes at several different trainers, and even had several rounds of private training...none of it helped for the deeper issues we needed addressed (pulling, lunging, barking incessantly, and generally being an ultra-guard dog). We have a whole new dog since our training. + It's been 10 days but we saw a huge change immediately. Within about 2 minutes of the first exercise with our dog we saw a shift - suddenly we were the ones in charge. He responded differently to us immediately - asks permission, comes inside more easily (used to have to lure him inside with treats), calms down faster when we come home, doesn't demand attention anymore. Taking our dog for a walk used to be awful, we were anxious the whole time with our heads on a constant swivel of things that may set him off, it was stressful and not fun for any of us. Our dog is over 100 lbs; he has pulled me to the ground more than once and was starting to injure my husband's arm from the pulling. He would lunge at people, bark aggressively at absolutely everyone, and pulled non-stop - we had to keep a death grip on the leash the entire walk. Since our training he hasn't pulled once (ok maybe once, but only for a really good sniff of something when I wasn't being diligent….), he walks at my side or slightly behind me, barely even looks at distractions, and makes incredible eye contact with me. I used to be a treat dispenser on walks out of necessity, but now barely use any. The training isn't dependent on using treats as a lure, which means I am not dependent on treats for compliance. He used to bark in the yard non-stop, I was worried a neighbour would call by-law on us. He barely barks at anything anymore - he seems more relaxed and like he can just enjoy being outside without being on guard. We have followed our homework plan, but notice that if we give him an inch he will take a mile. We know that we are the ones who have to be consistent and adhere to the homework if we want the results. We have seen such a massive shift in our dog that we barely even believe it's possible. We had considered trying medication, and were afraid we would have to consider re-homing him, when really all he needed was for us to have better communication and boundaries with him. I am so grateful that this training works as well as it does. Bark Busters was worth every penny, I would recommend them to anyone."
Danielle & Mike S - Edmonton, Alberta
---
"We recently picked up Lady, a collie/lab mix from a rescue. In the house she was loving cuddle suck and generally the perfect dog. As soon as you picked up the leash she was a different dog, aggressive, bossy and almost impossible to control. Thru the internet and on the recommendation of our vet we gave Bark Busters a call. Our initial contact was with Greg, I described some of the issues and he opened my eyes to how Lady was controlling us. I booked an appointment on the spot. Carol came out and spent close to four hours with us showing us how to become "the leader of the pack" and let Lady not shoulder that responsibility. In the short time that Carol was here we had a totally different dog than when she showed up, the transformation was unbelievable. The reviews we read stated that is what would happen but it was hard to believe till we saw it with our own eyes. I truly believe that without the help of Carol and Bark Busters techniques we would have gotten discouraged and given Lady back to the rescue society and been deprived of the joy and love she has brought into our home. It's been just about two weeks now since our initial training and Lady continues to improve. Any of the problems that we have encountered with her training are our fault. There was such a vast, quick improvement that it seemed our problems were solved so we would give Lady more freedom which she saw as a weakness in us and she would try to take the lead back. Now that we are more consistent with the training and the rules she has turned into the dog we were hoping for when we picked her up. I have and will continue to recommend Bark Busters to anyone with a dog who has concerns about their dog's behavior."
Syd M - Edmonton, Alberta
---
"Carol was prompt and professional. She worked through a lot of information with us then we started the training portion. We have been so happy with what we learned. It's still a work in progress but our rott shepherd mix is responding so well. The day carol came began the change. Our dog was pushy leaving the house and super bossy on the leash and the techniques we were taught took immediate affect. The first meeting is long but all the information is important and carol was patient and showed us how to implement it so well I would highly recommend Bark Busters."
Tammy N - Edmonton, Alberta
---
"I can't believe the behaviour change in my dog after just one session with Carol. My Staffy was demanding, reactive on leash, aggressive and fearful of people, and I was very skeptical that Bark Busters would work. But it did! Today I took my dog on our first stress-free, calm walk in 2 years and I could not be happier (my dog too!). Trust the techniques they teach you, it really does work, and is completely worth the money."
Farrell B - Edmonton, Alberta
---
"My dog had a serious pulling problem, as well as being quite vocal, but with the help of Carol, we were able to learn how to get his pulling under control, as well as help us to get our dogs vocalness toned down, and he improved within the 4 hours Carol was here. I am very impressed and thrilled with the improvements my dog has made. I am very thankful to Bark Busters Edmonton!"
Geena B - Edmonton, Alberta
---
"Carol is amazing. She is legitimately the dog whisperer. Our sweet boy has always been obedient in the house, but we were having some major problems on walks and with dog reactivity. He is 100lbs, and one night, after he dragged me on my butt across an icy road to run full force at another dog while I hung on, I said, "This has to stop." Because of our extremely cold winter, he was starting to get cooped up, and he had developed a new habit of barking fiercely at other dogs through the window (which had never happened before). He was earning a bad reputation for himself in the neighbourhood very quickly. I searched on google and read rave reviews about Carol and emailed immediately. The reviews are SO good that you might think "Is this too good to be true?" but after I researched further and saw that they guarantee results for the life of the dog (or they will come back again), I knew I had to try. ***This was the best decision I could have made for our pup and family.*** Bark Busters is 100% worth every penny. There is NO referral bonus. After one single session, we had a completely different dog. He was walking nicely on the leash beside me (rather than briskly in front of me and pulling). He has been consistently looking at me and waiting for me to give him permission to exit when I open the door. He isn't barking at the window. My family members were skeptical, but they were blown away by the results we saw during our single session with Carol. Bark Busters doesn't use treats, clickers, or any kind of devices like shock collars or pinch collars. They are behaviorists that teach the psychology of the dog, and how to communicate with your dog to achieve the results you want. There were so many things that we thought we were doing "right" with him that actually were contributing to the problems we were having. Everything made perfect sense. Carol provided clear homework to our family and it does take commitment, but I would truly never go another route. I also love that if I have a question, I can reach out and contact her for advisement or further help. Carol has taught and given us the tools we need to communicate with our pup to achieve the results we want and need. I 1000% recommend Carol and the Bark Busters program to ANYONE who would like to see any kind of change within their dog, whether it is an extreme or mild behavioural issue."
Josselyn M - Edmonton, Alberta
---
"Thank you so much for the session with Rolo. You completely changed our perspective in how to train our puppy. You gave us some amazing insight into how we need to change our approach and behaviors. There was such drastic improvements in Rolo within hours. Having the one on one training and in a comfortable environment was the best experience for our puppy. I would highly recommend Bark Busters to any new puppy parents to ensure you are on the right track and your puppy is set up for the most success."
Lindsay M - Edmonton, Alberta
---
"The changes we saw in our dog after the first 4 hours we spent with Carol was amazing. We were able to walk her without her pulling us, she waited at the door until we invited her in or out and best of all she stayed out of the kitchen. It's been 3 weeks since Bark Busters was here and our dog has not tried to eat out of the garbage once. The homework we were given was quick and easy to follow. Guests that come to our home cannot believe the difference in our dog in a few short weeks. Every concern we had with our dog was covered in that first initial visit and Carol reinforced that we could call anytime. We have spent money on other training classes that were treat based and we did not find them successful because our dog could tell when we had a treat and she would only listen if we had a treat available. We wanted our dog to listen because we had spoken, not because we were feeding her or being physical with her. Bark Busters has provided us with a non treat and non aggressive form of training. The money we spent was well worth it and the training is highly effective. I definitely recommend Bark Busters!"
Janna K - Edmonton, Alberta
---
"It was like watching a magic show. Our nippy and some what aggressive pup has been transformed into a delightful little pup. She still needs more training of course, but Carol showed us what is possible. I have been talking up Bark Busters far and Wide!"
Kathleen M - Edmonton, Alberta
---
"Our dog Lola responded very well to the program almost immediately. She seems like a calmer happier dog! Our family too!!"
Annette K - Edmonton, Alberta
---
Contact us now!
We'd love to hear about your dog and discuss how we can help.
Call: 1 866-418-4584 or Email using the form below.